We can print your logo, text or picture anywhere on your marquee, walls, banner, flags, inflatables and more.
We understand that each customer has unique requirements; this is why we have adopted a flexible, budget-friendly and customer-focused approach:
We can print as little or as much of the surface area, according to your needs
There is no limitation in the amount of colours that can be used
Total coverage is not a problem
We will gladly create an artwork proof to ensure that your printing will match your expectations
We do not begin production until you are satisfied with and have approved the look of your job
You can print on as much or as little of your Marquee as you wish.
Each Marquee roof has four valance panels and four roof panels.  You may print on all of them or just one or any other combination.
You can also print on walls (full walls or half walls) on one side or both sides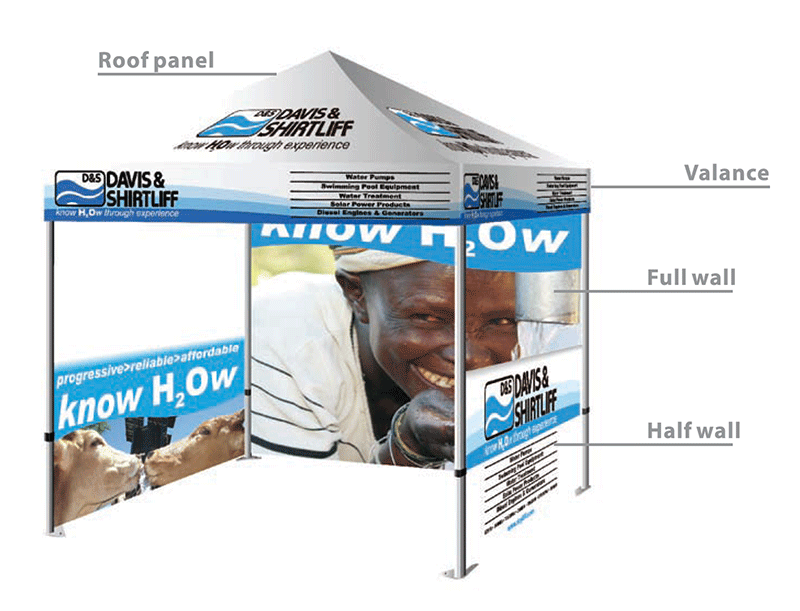 You can prepare your own artwork for printing or we can help you do it.
Step 1.  Decide which surfaces you want to print on
Who will be seeing your printing?  How do you maximise exposure?  Do you want double sided printing or single sided?
Step 2.   Gather your images
You may want a logo printed, text or a photo or combination of all of these.
We accept the following format files:
EPS / AI / TIFF / PSD / High-Resolution PDF
We cannot print small resolution image files such as JPG / PNG / GIF or any image saved in incorrect formats
Step 3.  Prepare the proof
You can prepare the artwork or we can do it for you.   If you are going to prepare your own artwork, please contact us and we will provide you with the relevant templates for you to use.
Before commencing production we require written approval of your artwork.  We make every effort to get things right, however it is crucial you take the time to go over the proofs and ensure they meet your exact specifications.  Find someone else to cast an eye over the work as well.
Check out our Gallery page to see more awesome marquees!